Gary "Cowboy" McLaughlin QM3/SS
by Jim Roger, Base Commander LA/Pasadena Base USSVI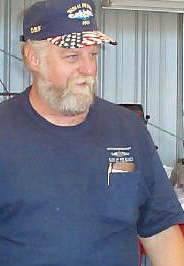 After a very moving and memorable service at The Ranch attended by many from the Submarine Community, a very brief service, attended by only about six, was held beside the tack room at the ranch. At that time, the urn containing Garys' cremains was transfered to the care of Jim Rogers, L.A./PASADENA Base Commander, to be delivered to an active duty submarine for casting at sea.

Jim did contact T.L. Howard ,Capt. and C.O. of the USS Salt Lake City SSN 716. On 11 October 2005 a white glove service was held at the Submarine Memorial Point Loma, San Diego. In attendance were Mark Maynard Memorial Chair L.A. Chapter SubVets WWII and Ed Armstrong Pres. L.A. Chapter SubVets WWII, both of whom are Submariners of WWII plus Jim Rogers and the C.O.B. and another Officer of USS Salt Lake City.

On 28 October 2005, Salt Lake City departed San Diego for deployment to the East Coast via the Northern Route. At 1530 at approx 12 Nautical miles southwest of San Diego at coordinates 32Deg 36.7N-117Deg25.2W, a very solomn ceremony was conducted topside. The Ship's Engineering Officer, LCDR Larry A.Myers Jr., US Navy was the military commander of the ceremony. The cremains were committed to the sea as the submarine silently submerged below the calm seas of the Pacific Ocean.

Upon reaching the East Coast an American flag, GPS Chart and letter from the C.O. of Salt Lake City was sent to Ms. Sue McLaughlin. As Commander of the Los Angeles/Pasadena Base USSVI and on behalf of our Membership a very heart-felt "Sailor rest your oar and Hand salute." I am very honored to have played a role in the Eternal Patrol of Gary McLaughlin. May he find calm winds, smooth seas on his Final Patrol.
---
Gary McLaughlin, Eternal Patrol, September 17, 2005
See also: Bash Memories and Bash II