---
Remembering the Scorpion
by JOSN Michaela Kekedy - sponsored by John Donaldson
Norfolk, VA - On May 27, 1968, Theresa Bishop, wife of USS Scorpion Chief of Boat Torpedoman Chief Walter William Bishop, and other Scorpion family members gathered at Pier 22 on the Norfolk Naval Base in the cold and a "torrential downpour" while their children were still in school. They gathered for the homecoming of USS Scorpion that had been at sea since February 15. The families waited for their sub to return. They waited and they waited.
After the first hours passed, the group was invited to the submarine tender for coffee and to get warm. With no sign of the sub, they were finally told to return to their homes and wait for news.
STSC(SS) John Bishop of USS Louisiana was only nine years old in 1968. He remembers coming home from school on May 27, 1968 and looking for his dad.
According to Bishop, when his father came home from deployments, "he hid in the house where we could find him." After the hugs and hellos came the presents. "But we couldn't find him and mom kept saying he was delayed because of bad weather," remembered Bishop. "So we figured we would sit around and wait."
But as Joan Cowan, says "most submarine wives know that if it is overdue, it's gone." Cowan is the wife of 18-year submarine veteran MM1 Robert James Cowan who had planned on retiring from the Navy and return to farming. Her husband was among those who did not come home.
Chief John Bishop, who is planning his own retirement in January following 20 years of service, also recalled turning on the television to watch the 5 o'clock newscast, only to learn the Scorpion was overdue and presumed lost. "I went to tell mom about it…and before I knew it we had a house full of people."
The Navy initiated a massive search. On June 5, 1968, the Chief of Naval Operations, ADM T.H. Moorer, made the official announcement that USS Scorpion (SSN 589) and her 99 crewmen were presumed lost. On October 30,1968, the U.S. naval oceanographic research ship Mizar found Scorpion 400 miles southwest of the Azores, the site of the last communication with the sub, in 10,000 feet of water.
Although most of the families have moved out of the Norfolk area, they keep in touch and the Bishops and Cowans became close through tragedy. Initially, the Scorpion memorials were held at Woodlawn Memorial Cemetery, with a few special anniversary memorials being held at Pier 22.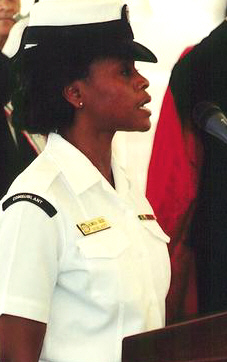 This year's ceremony was also held last Saturday morning at Pier 22, the very place Scorpion put to sea for the last time. With more than 100 people in attendance, the ceremony called to light not only the fateful past of Scorpion, but also the legacy of the men who sailed in her.
Organized by the Chief of the Boat Walter Bishop's daughter, CDR Marietta Bishop Nolan, a Naval Reserve nurse for 16 years, this year's ceremony was attended by a mix of family members, Submarine Veterans of World War II, and current submarine sailors. CDR Nolan was eight years old the year Scorpion was lost at sea.
Captain Mike Tracy, Commander Submarine Force U.S. Atlantic Fleet chief of staff, said of the crew, "They (those lost aboard Scorpion) embody the American spirit – ordinary men who did extraordinary things and who made the ultimate sacrifice in the service of their country."
Commenting on the Scorpion's most important asset, it's people, guest speaker RADM Robert Fountain, USN (Ret), touched on the success of those who served aboard Scorpion.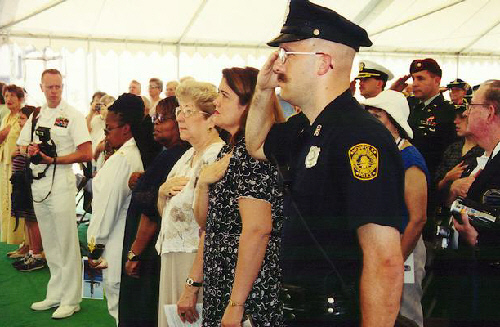 "In her less than eight years of commissioned service, Scorpion had spawned one future Chief of Naval Operations, an Assistant Secretary of the Navy, a Submarine Force Commander, two other Vice-Admirals, six Rear Admirals, and numerous other officers and men who went on to distinguished careers in the Navy and civilian life," said Fountain. "One of the great tragedies of the Scorpion's loss was the snuffing out of almost 100 young lives of equal potential before they reached fruition."
Twice a former Scorpion crewmember, RADM Fountain was first assigned to Scorpion, the first nuclear-powered submarine to join the Norfolk squadron, as a brand new officer in the summer of 1961. He returned to Scorpion later as its executive officer. Fountain was the last officer transferred off before Scorpion began her Mediterranean deployment.
Fountain eloquently noted how submarines have changed the course of history during their 100 years of "silent service", adding that "Scorpion can be considered a Cold War loss, in a way. While the cause was accidental, she had been run hard, on a pace unthinkable in today's environment, and she was returning home from an arduous deployment…the operational intensity was very great, bordering on that of [a] shooting war itself."
"While our civilian population worried about Armageddon, submarine crews at sea did all they could to stave it off, living on the edge constantly," said Fountain. "On the strategic level of this epic struggle, no one did more than our submarine force, the submarines and their crews, to win the Cold War."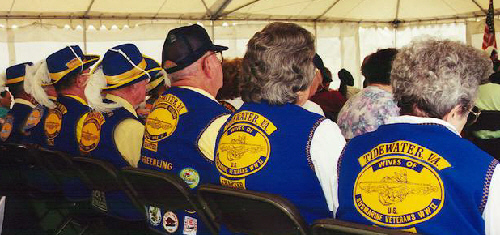 During the Reading of Names by Ron Gorman, Fountain sat, eyes closed, absolutely still. As Tracy had said in is introductory remarks, "The Scorpion's loss is indeed a personal one to him."
Fountain said he remembered the Scorpion crew as being extremely close and hardworking. He also remains close to the Bishop family, and often tells of the "tough, no-nonsense" COB who brought out the best in his men.
Bishop, his brother Michael and his sister agree that the enduring legacy of the Scorpion is her crewmen.
During this year's service, it was announced that a special recognition plaque will be sent to the family of IC3 Vernon Mark Foli acknowledging a fellow member of the Knights of Columbus. The Fourth Degree Color Corps, the military honor division of the Knights of Columbus, celebrates it's centennial this year.
To learn more about the loss of USS Scorpion and to see photos of the wreckage, go to the Naval Historical Center's website: http://www.search.navy.mil/collections/history. Type in USS Scorpion and click on "seek". To learn more about the Submarine Force Centennial, go to website: http://www.navy.mil and click on "submarine centennial".
---
Photos - Top to bottom:
Petty Officer Giles sings the National Anthem
Cowan family and attendees from all walks of life
WWII Subvets in attendance
Photo credits: John Donaldson. View John Donaldson's photo album of this event.
DANFS's List of Scorpion crewmembers lost at sea.
This page created on Memorial Day, 2000
---
SubmarineSailor.Com thanks Michaela Kekeday for writing and sharing this story and John Donaldson for coordinating the delivery of the story to this site!