Warren Robert Brutzman ("Bob" or "Brutz")
submitted by R. Scott Brutzman, brother

Warren Robert "Bob" Brutzman, formerly of West Scranton, died on Father's Day, in Los Angeles, California. His death was unexpected and occurred while an outpatient and under the care of the Veterans Administration hospital in Westwood, California.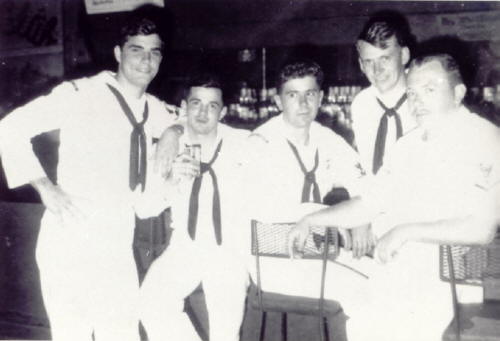 - Brutzman standing at left -
Bob, to all who knew him, was born March 5, 1943 at the West Side Hospital (Scranton), and was the son of the late Warren Evan and Muriel Beverly Jones Brutzman. He resided in Los Angeles, California since 1974.
He was a graduate of West Scranton High School, class of '60, and attended the University of Scranton for two years prior to enlisting in the military. He also attended the University of Connecticut and the University of California, Berkley
He was a veteran of the U.S. Navy (SS), serving his country during the height of the Cold War and the Vietnam War. Bob was a pioneer of his generation, as he volunteered to join the elite Submarine Service a.k.a. "Silent Service" at the time the U.S. Navy was beginning its transformation, emerging into the pre-eminent nuclear Navy of today.
He served aboard the U.S.S. George Washington, SSBN 598b, which was the first nuclear powered Polaris Ballistic Missile submarine, home ported in New London, Connecticut. The Washington carried 16, 74-inch diameter Polaris, B3D missiles in its missile compartment, which was commonly referred to by the crew, as Sherwood Forest. Each missile was equipped with a three-warhead system that possessed the destructive capability to eliminate a city the size of Boston or Philadelphia. The FBM submarines, a.k.a. Boomers, was a fleet comprised of 41 nuclear powered Polaris Ballistic missile sub-marines, collectively referred to today, as the Forty-One For Freedom.
Prior to his service on the Washington, he also served aboard the fast attack nuclear powered submarine, U.S.S. Jack, SSN 605, a sister ship to the U.S.S. Thresher, SSN 593 that sank in April '63 taking all hands on eternal patrol; and the U.S.S. Halibut, SSGN 587g, the first nuclear powered Regulus guided missile submarine out of Pearl Harbor, Hawaii.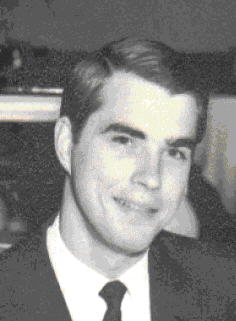 Providence walked with him when he declined re-enlistment, as he next would have been aboard the fast attack nuclear submarine, U.S.S. Scorpion, SSN 589 out of Norfolk, Virginia. The Scorpion departed in February '68 on a patrol from which it never returned and was, subsequently, declared lost at sea. Like Thresher's crew, all hands aboard Scorpion are also on an eternal patrol.
It was young men, like Bob, from every corner of the United States who answered their country's call at extreme personal risk. Because of their service, it is a commonly held opinion by many that the United States Navy's Silent Service was the vanguard of the United States' military defense forces.
Freedom loving people every- where, owe the submariners of the United States Navy our deepest appreciation for making the world a safer place. Were it not for the many sacrifices and unaccounted for contributions by the brave men of the Silent Service, the world, as it is known today, would be a completely different place.
Bob, was a veteran of eight (8) patrols aboard the various sub-marines to which he was assigned After his military service, he was an entrepreneur, author & publisher while residing in Los Angeles.
Like his brothers of the Silent Service aboard both Thresher and Scorpion, an unsung hero among the many of his time, Bob joins his previously departed shipmates, as he to is now on eternal patrol.
He is survived by daughter, Hilary Alexandra Metcalfe-Brutzman, a student at Harvard University, Cambridge, Massachusetts; and son; Warren Richard Metcalfe-Brutzman, a high school senior attending the Army Navy Military Academy, Carlsbad, California. Additionally, he is also survived by brothers, Charles, El Paso, Texas; and Scott, Santa Monica, California, and nieces; Kirsten Brutzman Livak, Truckee, California; Kimberly Ann Brutzman, El Paso, Texas; Kourtney Brutzman, Austin, Texas; Ashlee Cora Brutzman, Davis, California; Taylor Mawr Brutzman, Monterey, California and grand nephew; Zarek Antoine Livak, Truckee, California.
He is interred at the Riverside National Cemetery in Riverside, California, which is where the Medal of Honor winners museum and memorial is located.
(Mr. Brutzman passed away on June 16, 2002 - ed.)

---
Please take a moment of silence to honor another of our fallen brothers.
Hand Salute
Sailor rest your oars.
In loving memory of an honored shipmate
by R. Scott Brutzman, his brother
November 2, 2002